I'm sitting in the great room of the monastery building at Holy Wisdom, watching cold rain through the windows, pouring down. I can hear the very, very quiet gurgling of holy water flowing through the marble font, outside the doors of the large worshipping space here.
I love this font - it's big, FULL of water, and still as glass... but a steady stream of water runs down its side, so the water is still moving: living water!
(Here, with people nearby to show you its size):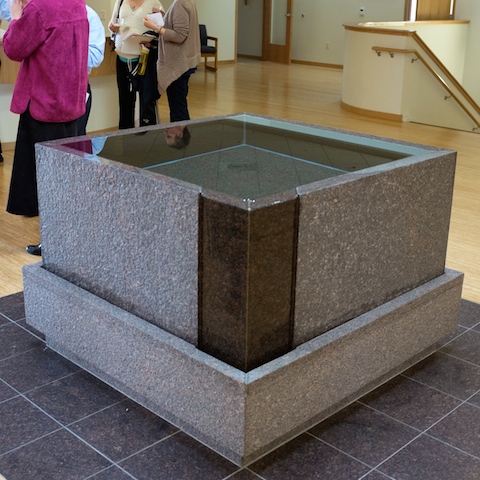 See the water, flowing down the front corner, there? It makes only the quietiest trickling sound. Here's a close up, in better light: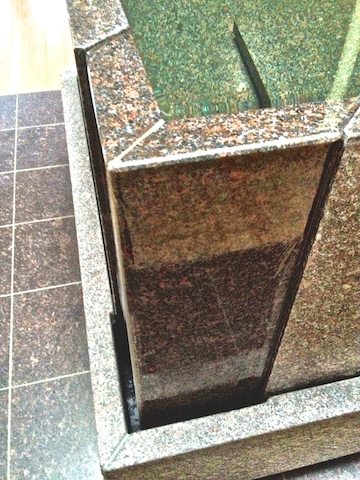 It runs in the smoothest stream, down the side. It makes me think of water flowing from the rock when Moses struck it, or the sheer sound of silence Elijah heard, or blood flowing down the side of Christ's body on the cross.
Here are some more photos of the monastery from past visits to give you an idea of the particularly simple beauty of this place. (It's been too cloudy and rainy here for pretty photos the past few days.)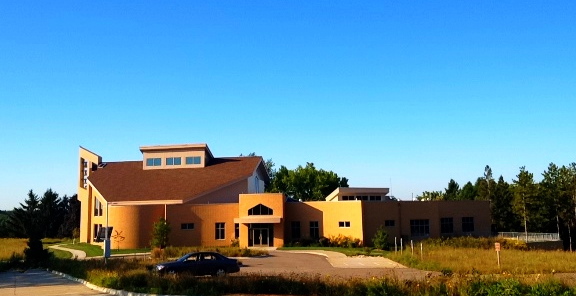 From the back: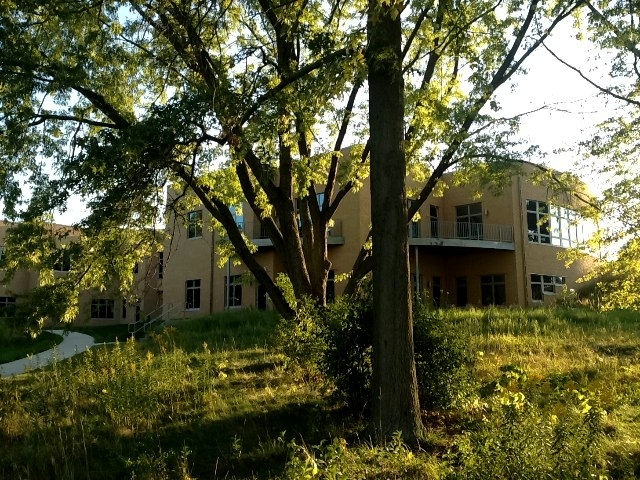 The large worship space: (over 200 for Sunday Eucharist!)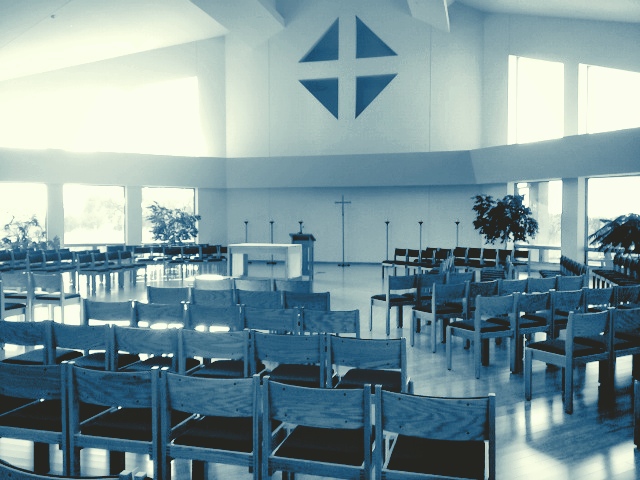 Stations of the Cross: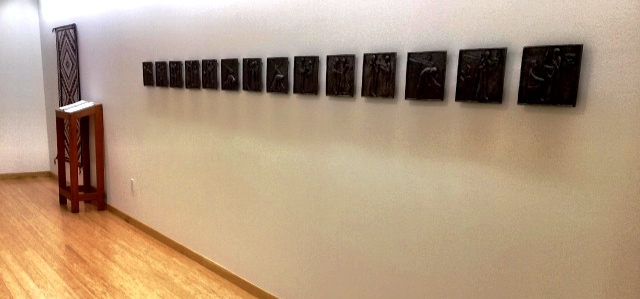 And here's where I'm living this month. It's a duplex - "Mary" on one side and "Elizabeth" on the other. There are lots of squirrels outside and spiders inside (it's in the woods, after all).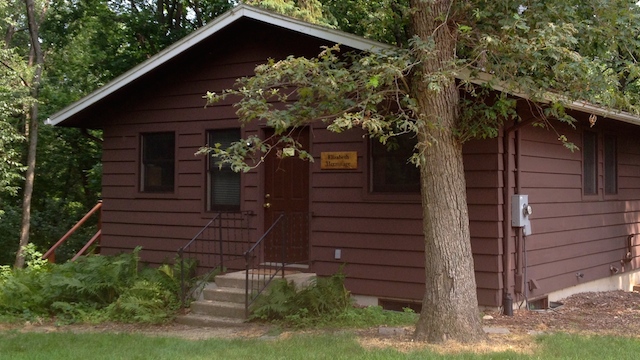 This is the Oratory, the smaller worship space where I come three times a day for the Liturgy of the Hours, also called The Daily Office.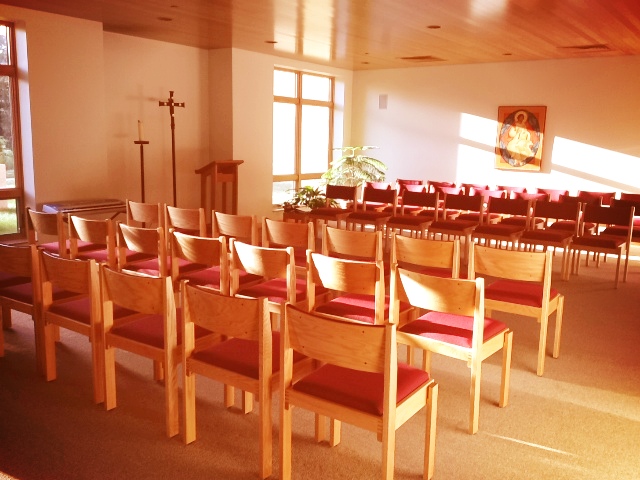 Each time, I walk down a little dirt road from the hermitages, which slows me down, in a good way.
Prayer Schedule at Holy Wisdom:
7:35 - centering prayer
8:00 - morning prayer
11:45 - midday prayer
4:30 - evening prayer
4:55 - centering prayer
(I'll start going to centering prayer next week, I think - 20 minutes of shared silence.)
At prayer, we speak some parts, and sing some parts. Every morning we sing the Benedictus - the song of Zechariah after John the Baptist is born - and every evening we sing the Magnificat - the song of Mary after she learns she is pregnant with Jesus. Both come from Luke 1.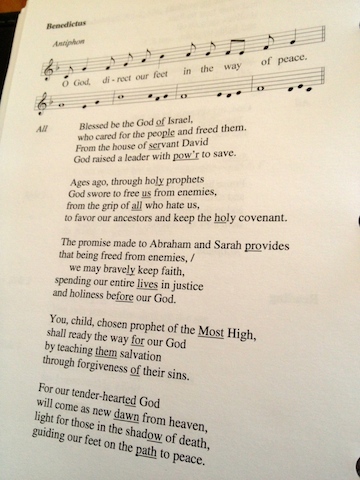 I love singing plainchant. Singing it 2-3 times a day reminds me of the year I spent in seminary at Seabury. Chant is like meditation - doing something with your body that refocuses your mind and heart, and gets inside you.
Otherwise: I spend time in silence. I read (see below). Sometimes I eat with other guests, but mostly I eat on my own. I'll see a good friend who lives in Madison tonight for dinner. I walk or do yoga. I talk to God.
I get bored sometimes, or get a little wonked out by all the quiet. I found this somewhere, and it's been helpful:
GOD:
Stills you
Reassures you
Leads you
Enlightens you
Forgives you
Calms you
Encourages you
Comforts you
THE EVIL ONE:
Rushes you
Frightens you
Pushes you
Confuses you
Condemns you
Stresses you
Discourages you
Worries you
I've also been doing fun stuff: I made up a banana bread recipe, riffing because I only had certain ingredients, and well, it's all I can do not to eat it for breakfast, lunch, and dinner.
I read a sort of dumb novel about people living in a lighthouse that I found here in about 3 hours straight (skimmed a lot, since it was often tedious).
I'm rereading Eat, Pray, Love for the third time. She went to Rome and I'm going to Rome, so it's fun to see it through her eyes. And I always learn a lot about prayer (again and again) from her experiences in India and Indonesia. It may be strange to have Elizabeth Gilbert as one of your meditation teachers, but I don't care.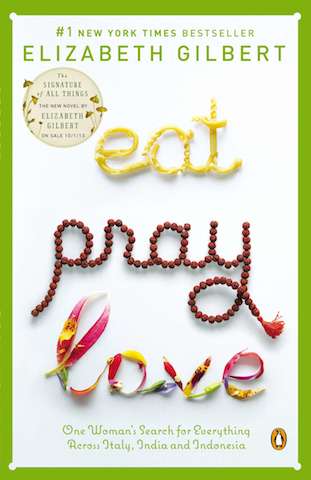 I'm also reading books about prayer that are just putting me on Cloud 9:
Teresa of Avila's Way, by Mary Luti
Into The Land of Silence, by Martin Laird
Poems, by George Herbert
I may be a reading junkie. Teresa of Avila was one, too, apparently, so it can't be too bad.
Well, midday prayer is at 11:45. I'm only online Fridays and Tuesdays - see you later. Thanks for reading.