"San Benedetto" is what they call him in Italy. He lived in a cave for three years above the town of Subiaco, until followers convinced him to come out. Before long, there were a dozen monasteries nearby, following his teachings.
Rather than rent a car, Adam and I mapped out our journey to Subiaco via public transportation. We took a city bus, to the Metro, to a county bus which wound through the countryside before dropping us off in the middle of this little town.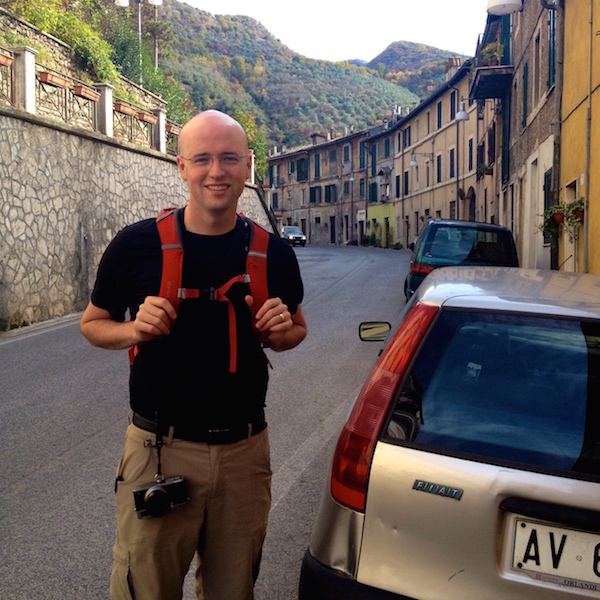 Then we just followed the signs, on a three mile hike through town and up the mountain.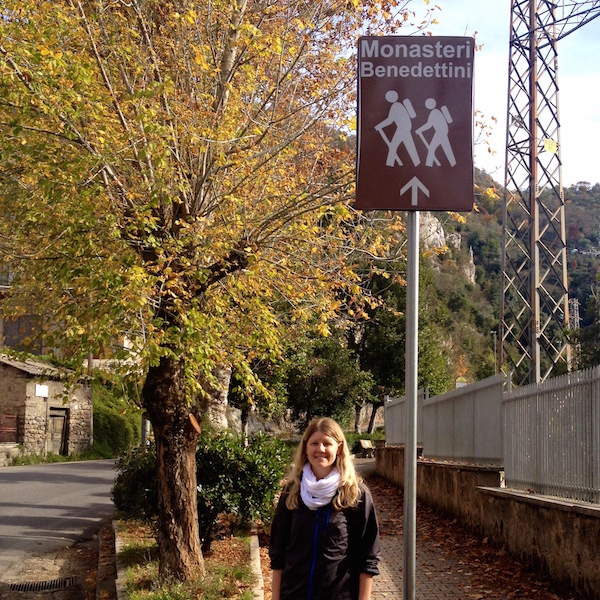 We picked up a picnic at a little grocery store on the way up. No one there spoke English, but with some help from the owner and a few interested customers, we got some bread and the perfect cheese, plus some apples and yogurt.

It was a cool autumn day - great for walking. It was a long walk! Lots of stairs, too. But you know, it was more satisfying because of that - we felt like we were really on a journey, really on a pilgrimage. And the walk seasoned us for really experiencing what we would see and feel there.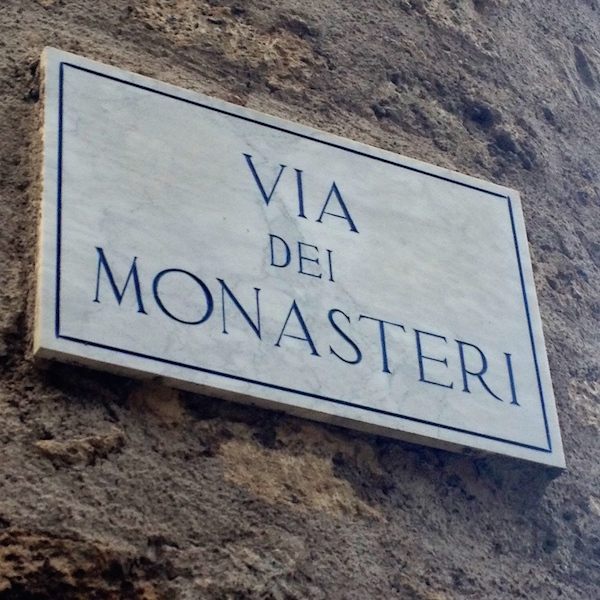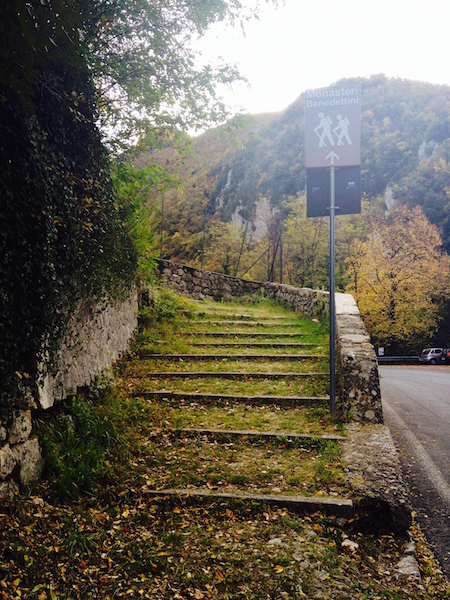 First we stopped at Santa Scolastica (named for his twin sister). It's the older site, and one of the original dozen monasteries founded by Benedict. But it's been added to many times and was partially bombed in World War II.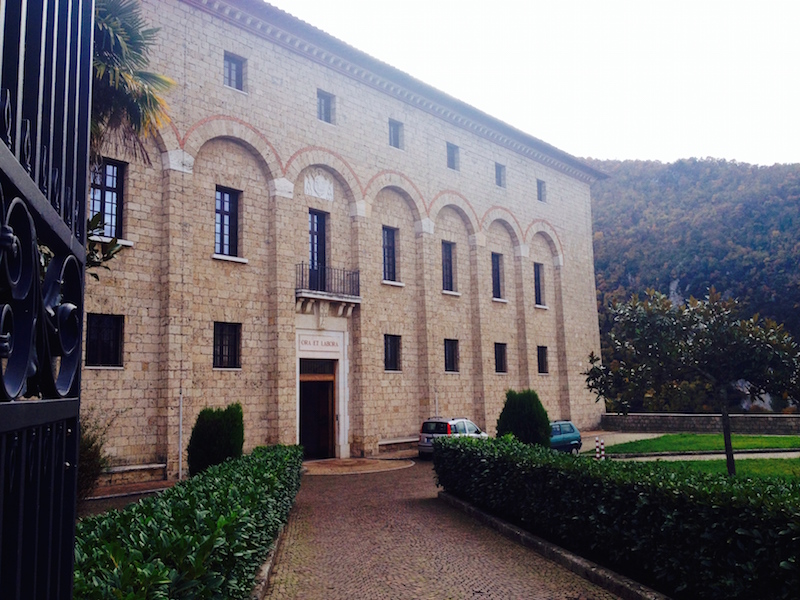 We rang a bell for the "porter," or doorkeeper. Lovers of St. Benedict will know the porter has a very special role in a Benedictine monastery - to welcome visitors and greet them with a blessing.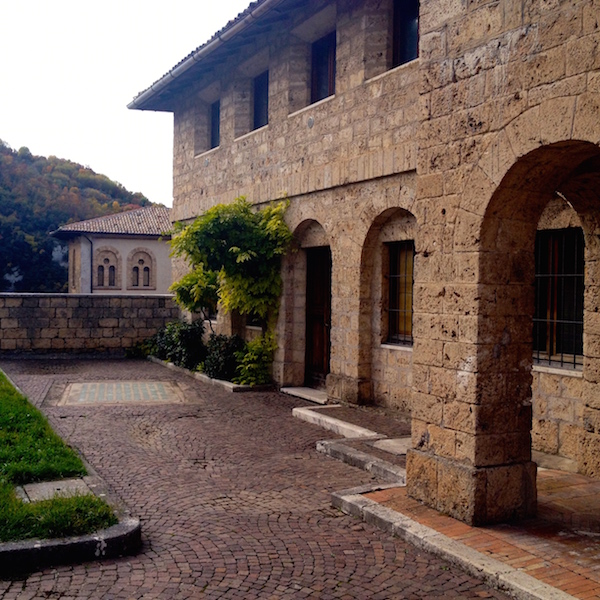 Well, let's just say our porter was a bit brisk and we didn't exactly get a kiss of peace. However, he did summon an elderly monk who was just lovely to us. When he found out we needed a tour in English, he found a young man who was a local student and oblate (associate) of the monastery to take us around instead.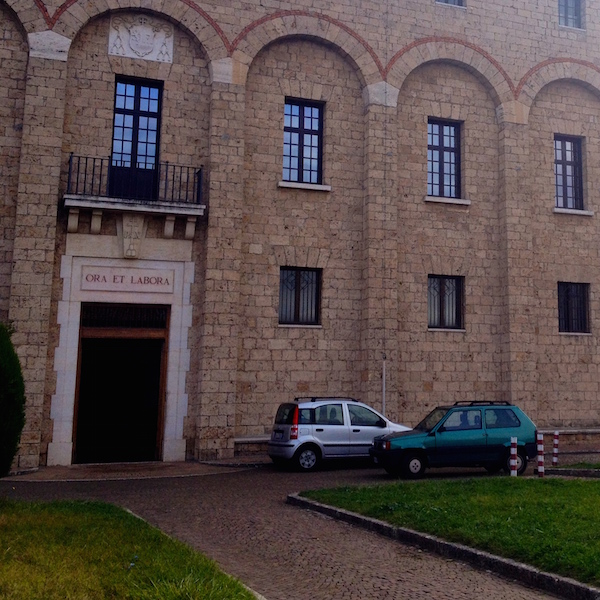 There are three cloisters and a beautiful campanile built over a few hundred years, level by level.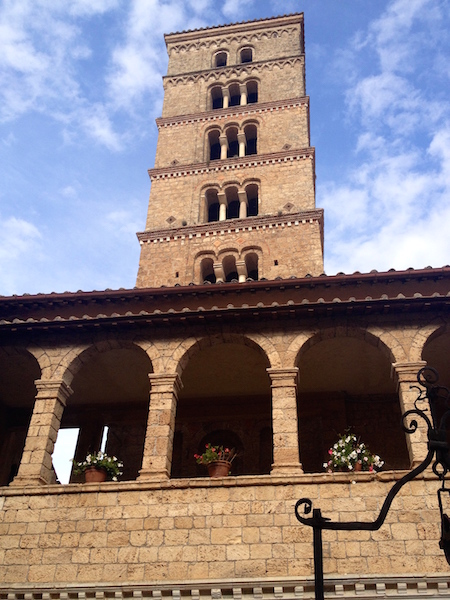 There are 13 monks now, and they live in both monasteries. They wear a full habit. They're from all over the world, and so are their visitors. But it's pretty quiet in November, which was nice.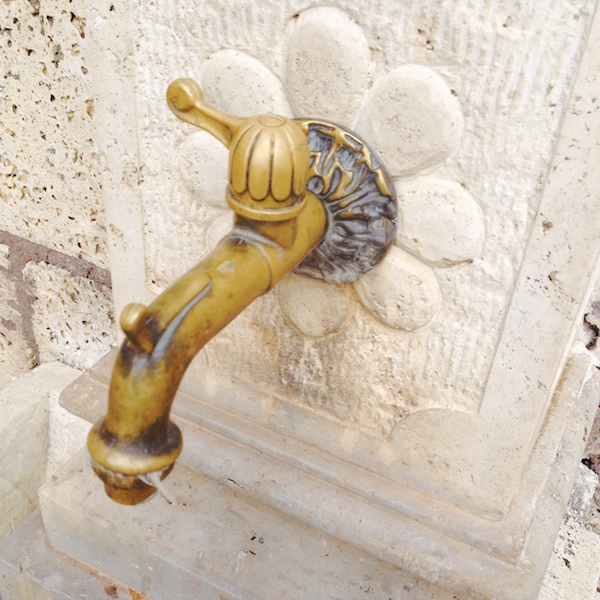 After our tour, we filled our water bottles and kept climbing UP! It was another mile and a quarter uphill to "Sacro Speco," or the Holy Cave, where Benedict lived as a hermit. That's where the other monastery is - San Benedetto.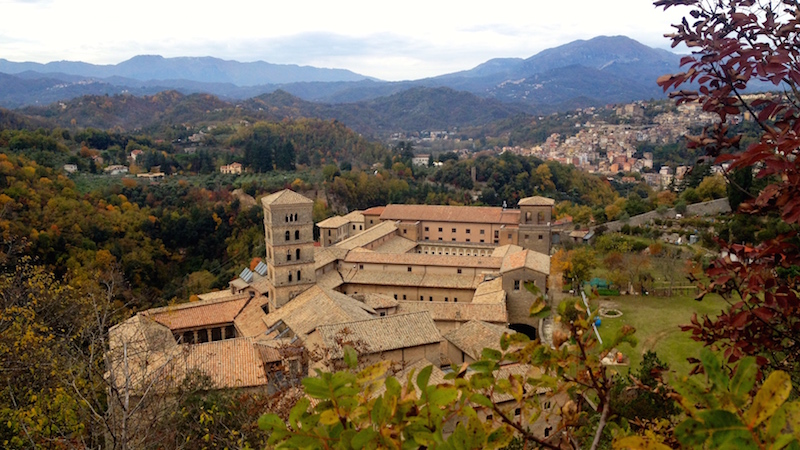 Here's our view looking back down at St. Scholastica and the town of Subiaco, beyond. There was a monk leading a flock of goats through the pasture on the right, their bells jingling.
Steep winding paths meant lots of stops to catch my breath, but we finally made it up! And were welcomed by a greeting right in the path: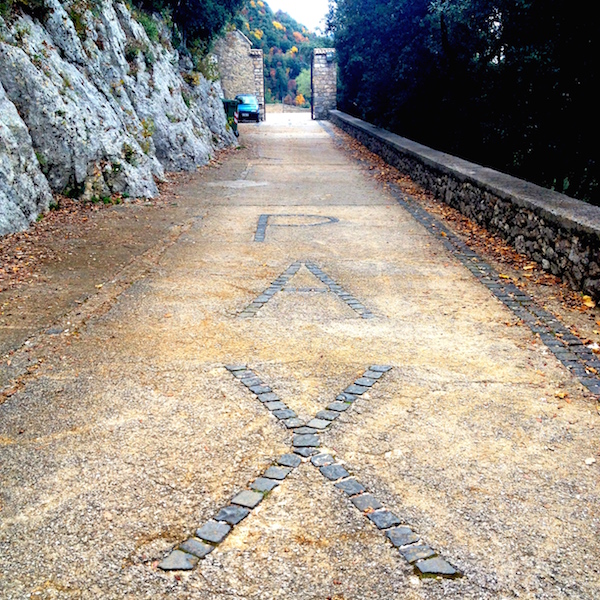 Shortly, we saw that the monks drive up and down the hill when they're running errands between monasteries. Hey, we're the pilgrims. They live here.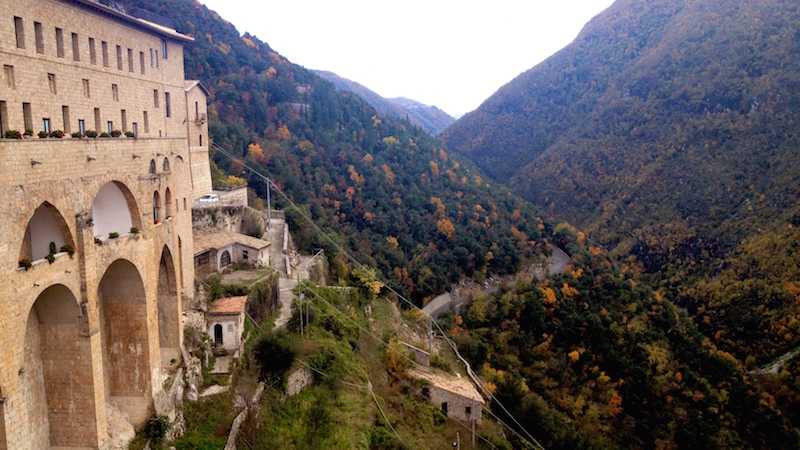 The view was stunning, especially with the fall colors. The monastery is built onto the side of a cliff, of course, over the cave. We had just enough time to dart in and glimpse the church and its frescoes before they closed things up for siesta. (Most things in Italy close between noon and 3 or 4.)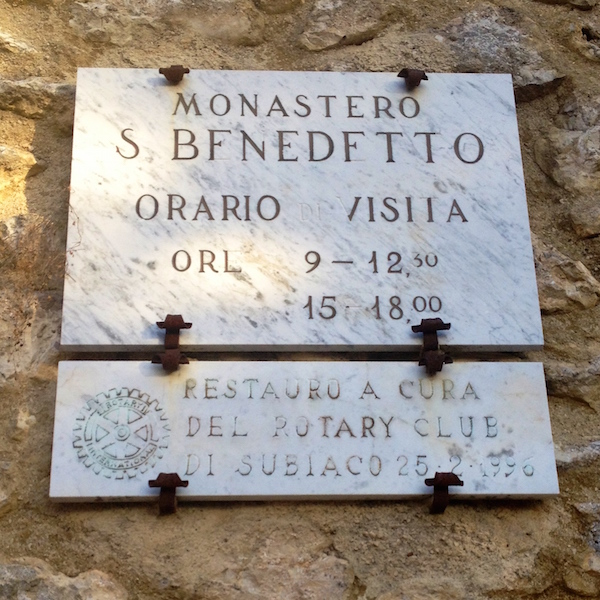 (Note the local Rotary involvement.)
We didn't realize we weren't supposed to take pictures until later. Oops. But so you can see how gorgeous the frecoes are, I will post my contraband photos.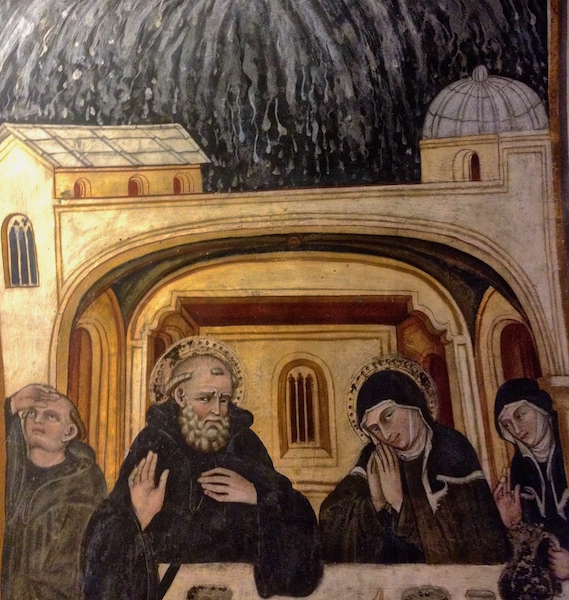 Benedict and Scholastica. One evening, she did not want to let him go home because they were in the middle of a really good conversation. So she prayed for a terrible storm to keep him there, and lo and behold, it worked! Note her sly look, and the monk on the left looking up at the storm.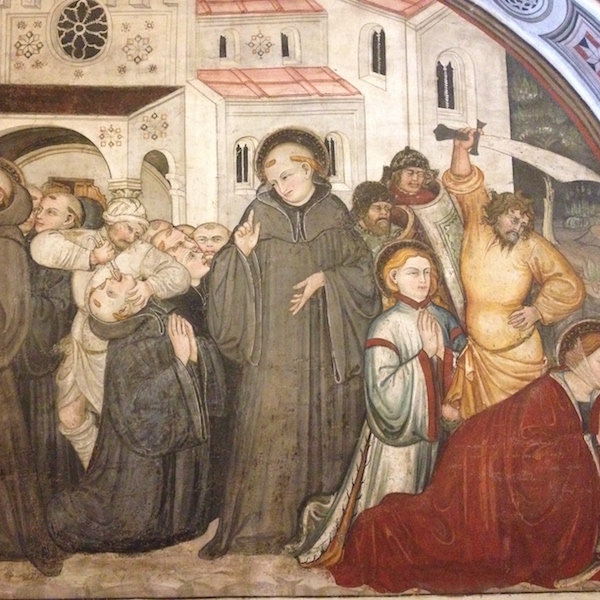 I can't quite recall what massacre this may have been. Note the monk getting his tongue pulled out and the women getting beheaded. Not sure who the confident central monk might be - a rival? Monastic life isn't generally peaceful, contrary to popular belief.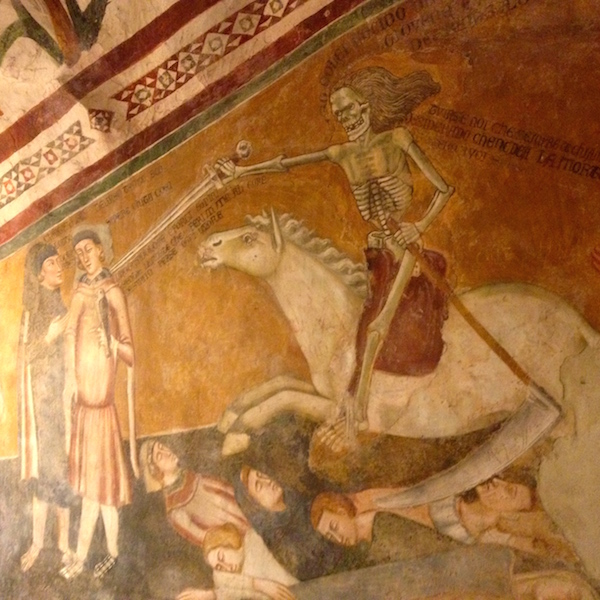 Mortality is a popular theme at Sacro Speco. Note the people trampled under the hooves of Death's horse. Maybe more teenagers would come to church if we had this sort of art on church walls?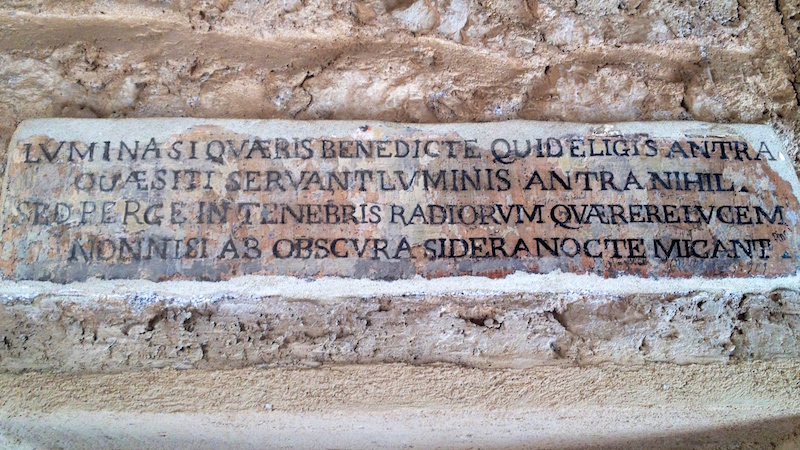 If you are seeking the light, Benedict, why do you choose the dark grotto?
The grotto does not offer the light
you are seeking.
But continue in the darkness
to seek the shining light,
Because only on a dark night
do the stars shine.
Soon, we had to leave and a kind monk smiled and waved as he locked the doors for lunch. It was 12:30 and they would open again at 3pm. It wasn't too long, really. We camped out on the plaza to eat our lunch and enjoy the quiet and beauty while we waited.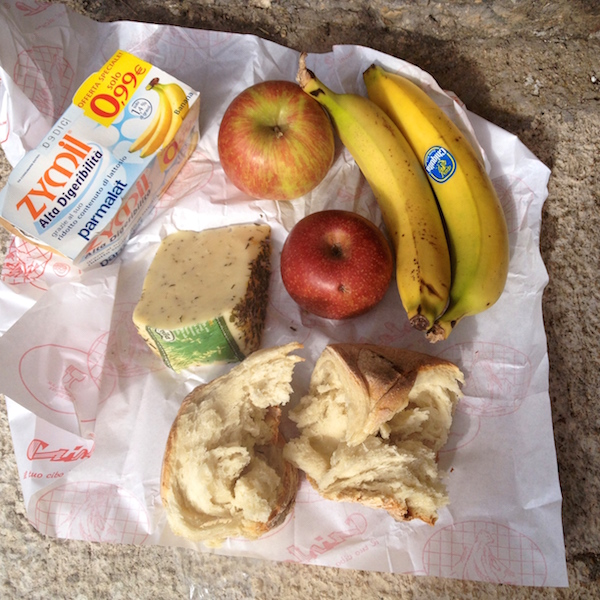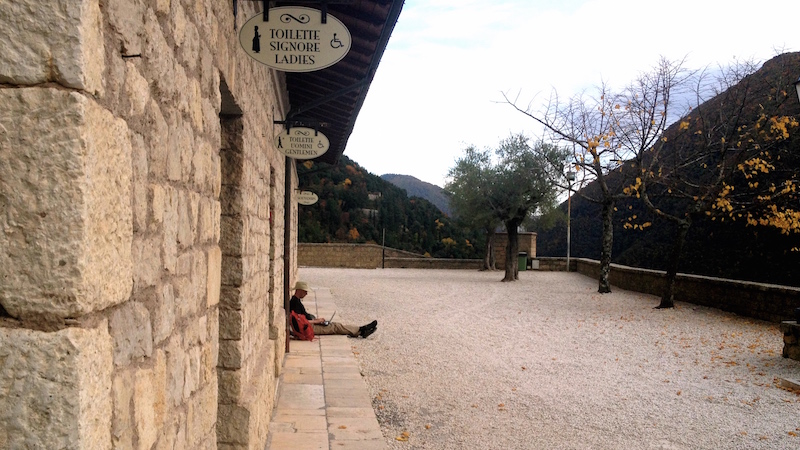 There were bathrooms, thankfully. And a water spigot (brick pillar). The lamppost made me think of Narnia.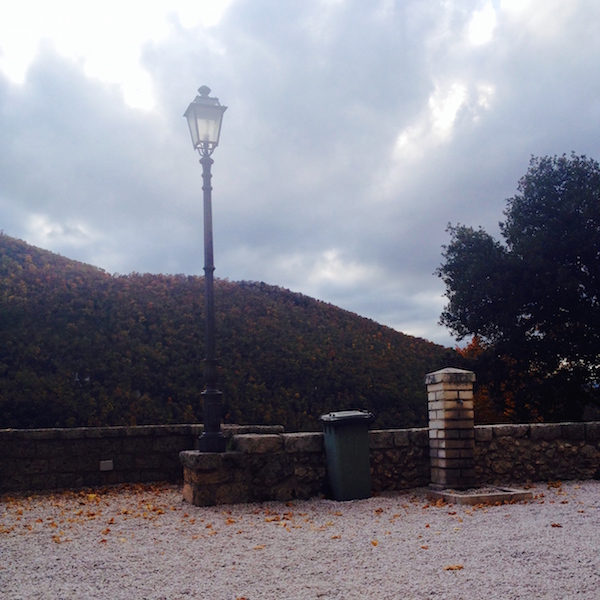 When they re-opened, we went back in for a second, more leisurely look. The cave itself was a bit "done up," just like holy places in the Holy Land: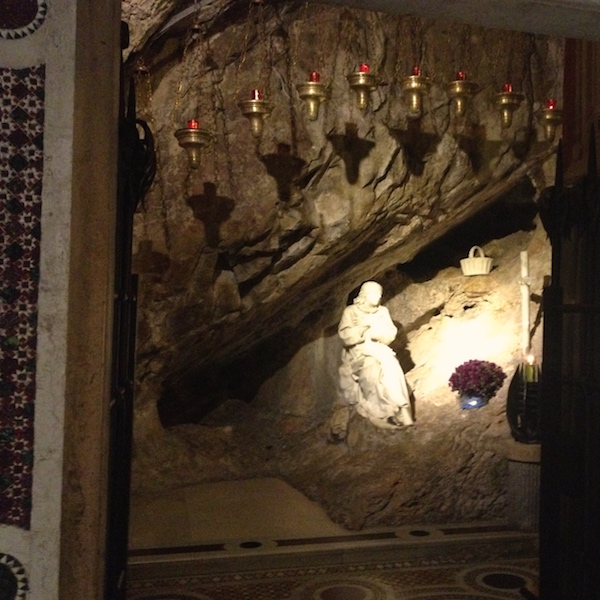 Lamps, statuary, flowers, marble flooring, dramatic lighting...! At least we know this is in fact the spot, since people have been honoring it since the day Benedict left it.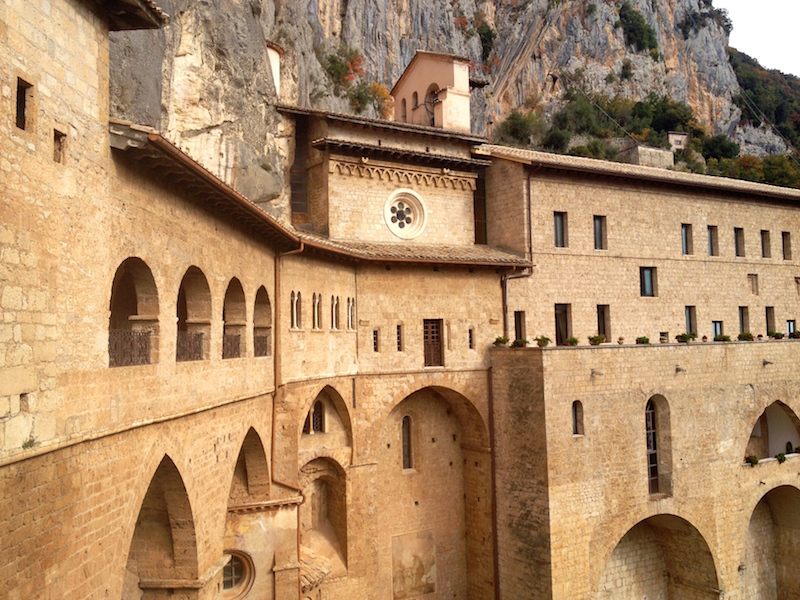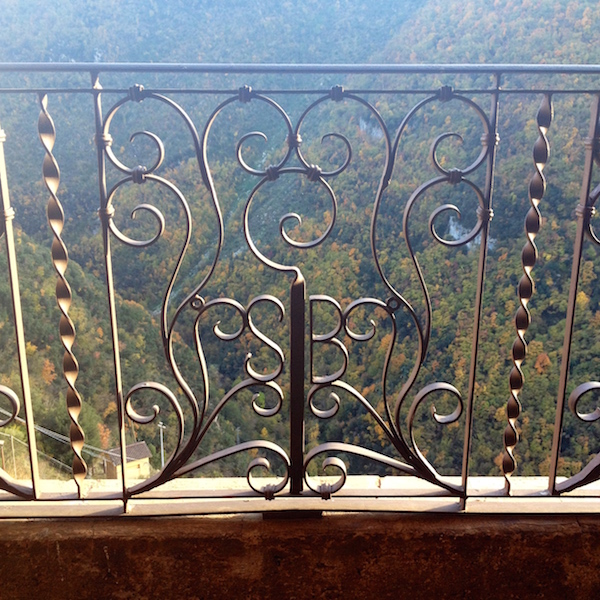 Well, the sun was going down, and we needed to start walking back.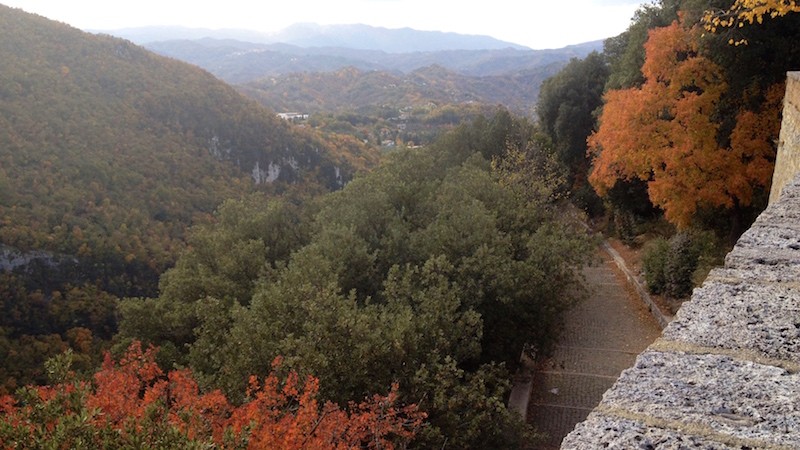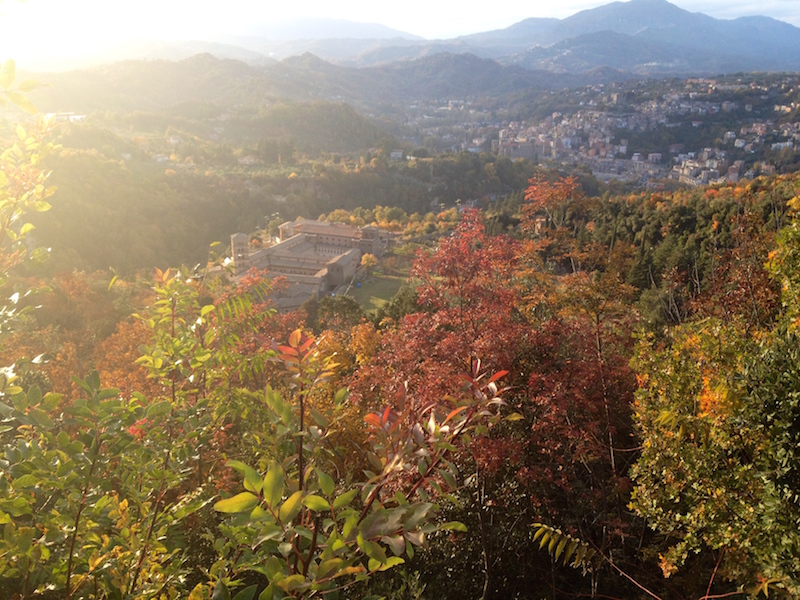 There's Santa Scolastica and Subiaco again, in the golden light of the evening sun.
Walking down was much easier than hiking up. We didn't have to wait long for the next bus back to Rome, either. We slept very, very well that night!
Subiaco was one of our favorite days. It felt like a truly sacred place - hushed, beautiful, and a journey there and back. Benedict is buried somewhere else (the monastery at Monte Cassino), but Subiaco seemed full of his spirit nonetheless.
The strange thing is that I found I felt closer to him in September, while I was staying at Holy Wisdom, the monastery where I'm an oblate, than here. But I think that's appropriate - there, I was able to live out a part of his Rule of Life with the sisters. I experienced Benedict's legacy as a living, breathing community and not just paintings and a cave. The brothers at Subiaco live that life, of course, but we were only passing through their monastery, rather than staying with them.
(Which you can do, by the way. They have a guesthouse - La Foresteria.)
But I'm thrilled we went and will always treasure that day.